Western Wilds Story of Cradle Mountain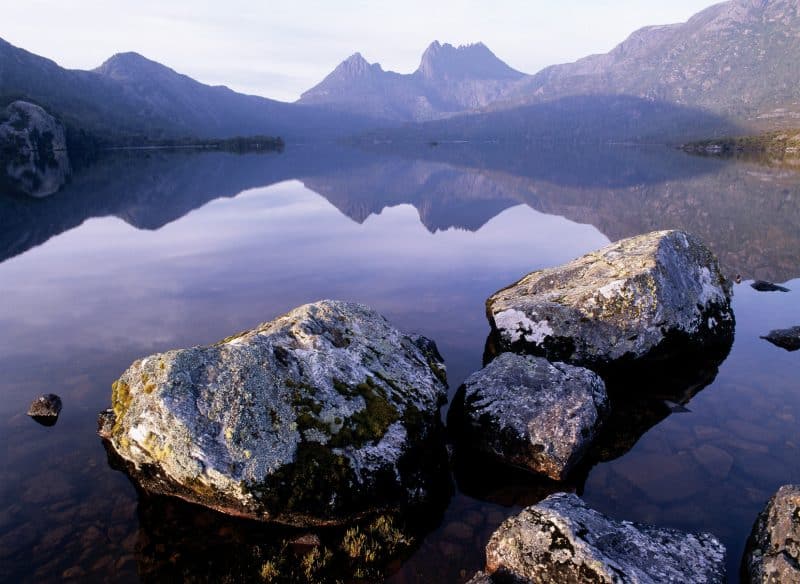 Western Wilds Story of Cradle Mountain
Comprising of 20% of Tasmania and holding the title of the largest conservation area in Australia, five National Parks meld to become the Tasmanian Wilderness World Heritage Area (TWWHA).
One of these Parks is the Cradle Mountain Lake St. Clair National Park which commenced its protected status as a Scenic Reserve back in 1922 thanks to the passion, vision and commitment of Gustav Weindorfer and his wife Kate. His connection to this place of unparalleled beauty commenced when Gustav migrated to Australia for a life change in the year 1900 and while in Melbourne expressed his interest in the natural wonders by joining the Victorian Field Naturalist Club where he met his future wife, Kate Cowle, who had recently moved from Tasmania.
With romance blooming Kate convinced Gustav to move to Tasmania where they got married spending most of their honeymoon as two botanists would – collecting and classifying plants while camping in a canvas tent on Mount Roland. From this location Gustav first viewed the breathtaking scenery encompassing the majesty of Cradle Mountain, showcasing its ancient Jurassic geological wonders in the form of cathedral style jagged peaks of dolerite. From this moment Gustav would connect to this place like no other and set out to explore this wondrous area.
On the January 4th 1910 Gustav and Kate climbed to the summit of Cradle Mountain where he was quoted as saying "This must be a National Park for the people for all time. This is magnificent and people must know about it and enjoy it".
At this time Gustav would have seen major environmental impact on the area from logging, mining, hunting and the grazing of cattle and sheep and so fuelled by passion he conceived a plan to protect that which he had fallen in love with. This began by purchasing land on which Gustav and Kate built the first accommodation at Cradle Mountain named Waldheim Chalet, Waldheim is Austrian for forest home, and was completed in 1912.
With accommodation in place visitors were attracted to Cradle Mountain sharing the appreciation of its wonders driving a campaign to force the Government to recognise its significance and commit to protecting this jewel in the crown of Tasmania. This commenced the preservation of the area from Dove Lake to Lake St. Clair becoming a Scenic Reserve in 1922, Wildlife Reserve in 1927, a National Park from 1947 and a World Heritage Listed Area in 1982.
Sadly Kate passed away in 1916 aged 52 and with Gustav losing his best friend he permanently located to Waldheim Chalet never to marry again. He continued to entertain his guests during the summer tourist season but in winter things were very quiet and loneliness crept in, one story tells of how Gustav opened his doors of the Chalet and allowed the local animals to enter and share the heat of the log fire for company.
In 1932, in an attempt to escape the winter blues, Gustav planned a visit to friends in Launceston and the North West but while attempting to start his motorcycle the strain on his heart proved too much and he died aged 58. Gustav Weindorfer is buried in the place he loved most next to the Waldheim Chalet overlooking the Cradle Mountain Lake St. Clair National Park.
We can thank Gustav and Kate for their vision and passion which drove the preservation of what is now one of the most sought out destinations for local, national and international visitors. Both Gustav and Kate will be remembered forever in the hearts of those who knew them and those that know their story.
For more Cradle Mountain Lodge articles click here