About
Cradle Mountain Lodge is widely considered one of Australia's iconic wilderness experiences.  Nestled on the edge of the World Heritage-listed Cradle Mountain-Lake St Clair National Park, this premier wilderness region is just a 2-hour scenic drive from Launceston and 1.5 hours from Devonport.
Cradle Mountain Lodge offers a unique experience, surrounded by breathtaking scenery and an abundance of flora and fauna. Discover the perfect blend of relaxation and adventure and immerse yourself in the beauty of Tasmania's premier wilderness region.
If you are looking for Accommodation on Cradle Mountain with the services of a fine hotel, Peppers Cradle Mountain Lodge is both ideal and idyllic. The layout of the 86 Lodge Cabins and Suites places you right amongst the alpine wilderness. Some even have a fireplace and each one is comfortable and cosy, from the intimate Pencil Pine or Spa Cabin, to the spacious and newly refurbished, lavish, King Billy Suites. You will also be in close proximity to great walking tracks. Boardwalks connect to the main lodge and are also a popular thoroughfare for the native wildlife, providing delightful and unexpected animal sightings.
A truly special dining experience telling the story of a hand-picked community of local growers, foragers, fisherman and producers, the Peppers Cradle Mountain Lodge team has curated the best of the Apple Isle, so that guests can enjoy the best of the food-bowl state without having to hunt and gather themselves. Supporting the best of local produce, the freshest fare is assured. 
Recognised as one of Tasmania's most highly regarded dining experiences, Highland Restaurant is a foodie destination. For a special event, Highland Restaurant is our signature restaurant. Events of all sizes are often hosted at Peppers Cradle Mountain Lodge, but something small and special like a Signature Wine & Cheese Tasting showcasing Tasmania's gourmet reputation, can also be arranged.
The rustic Tavern Bar & Bistro is a warm and casual setting for bistro meals, with the large central wood fire providing an intimate ambience. The Tavern is open daily for lunch and dinner. It is also perfect for casual drinks or a hearty meal before a long hike. A rotating selection of craft beers and cocktails rewards adventurers for their efforts.
Guests can unwind and recharge with indulgent spa treatments at the multi-award-winning Waldheim Alpine Spa is one of Australia's most spectacular wilderness spas. Overlooking the surrounding rugged mountains and ancient forests of the Tasmanian wilderness. Its signature therapies mirror the balanced beauty of Cradle Mountain. The spa experience is enhanced by a towering presence of the King Billy Pines and fresh mountain streams running through the wilderness.
Perfectly positioned to take full advantage of the abundant natural assets our 'backyard' has to offer. But, with so many hidden jewels in Cradle Mountain's crown, to properly explore the multi-faceted layers of our unique flora and fauna, unforgettable views, glacial lakes, and extraordinary alpine landscapes, it pays to have a little local knowledge.  If you want to deepen your discovery of Cradle Mountain, there are a range of experiences and guided tours are available.  Activities are plentiful, everything from fly-fishing to a gourmet master-class. The surroundings have more than 20 walking trails to explore and suit every level of fitness.
The Lodge Boutique takes great pride in sourcing an extensive range of Tasmanian made gifts and products providing a showcase for many local artists. Browse the extensive range of handmade ceramics, textiles, and jewellery along with an indulgent range of bath, body and beauty products.  A delicious range of Tasmanian gourmet foods and locally sourced Gin, Whiskey and Wine are also on display.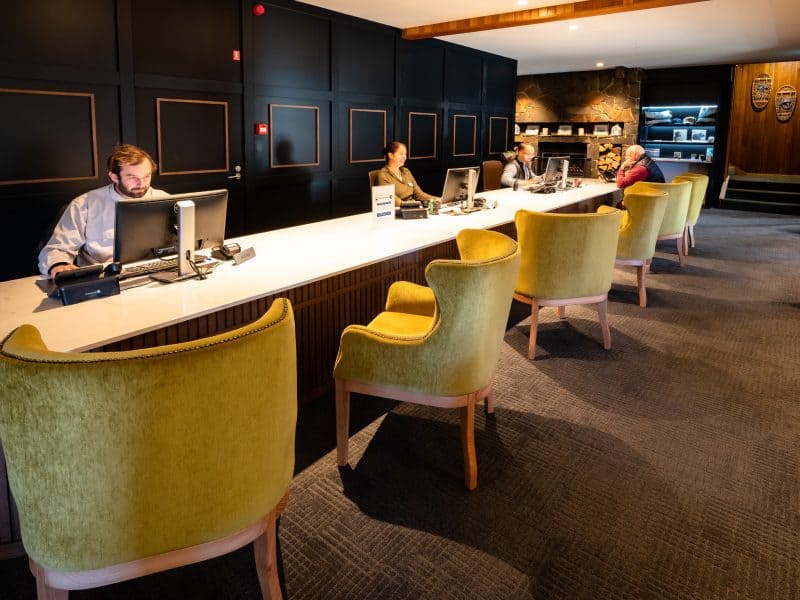 Important information:
Cradle Mountain Lodge is an Alpine Resort and as such access may be impacted by weather conditions, including snow. Please click here for updated weather information. We are located in 1,600km2 of wilderness. Because of our location, mobile phone service may be patchy (Telstra is the main service provider with network coverage in the area).