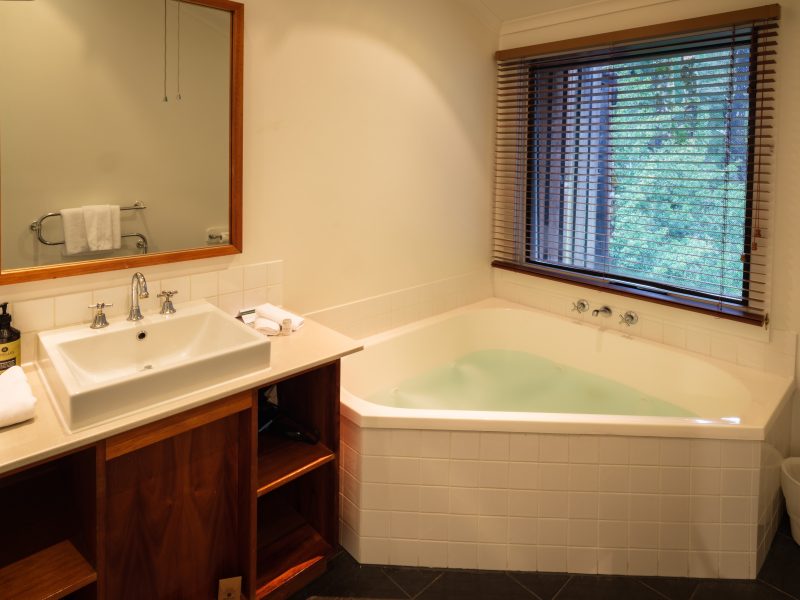 For those looking to enjoy some extra indulgence Cradle Mountain Lodge's Spa Suites are the ideal choice.
Spa Cabins are styled with hand-made Tasmanian wood furnishings and feature king-sized beds piled with soft goose-down duvets. Of course, a log fire and a deep spa are also a big part of the attraction.
Spa Suites also offer a range of additional in-room comforts and services such as a mini-bar, complimentary gourmet coffee and tea station, these are some of the extra treats included in this style of cabin.
Enjoy music from your in-room Bluetooth speaker or the silence of the surrounding wilderness. Each Spa Suite has a private verandah with outdoor furniture and with views into or over the surrounding wilderness, wildlife spotting in comfort is all a part of Cradle's natural charm.
The Spa Suites are perfect for romantic occasions and for really soaking up the surrounding wilderness from the privacy of your own warm and cosy haven. We also have Spa Suite Family Cabin features a king size bed and two single beds for family. 
Check in time is 2:00pm / Check out time is 10:00am
Spa Suites
2 - 3 Persons
King size bed
Turn down service
Log fire with ample cut wood and kindling available
Electric heater
Alarm clock
Table, chairs, coffee table and armchairs
Kettle
Nespresso machine
Refrigerator
Hairdryer
Toilet and shower
Daily housekeeping service
Mini Bar
Balcony
Bluetooth speaker
Spa Bath
Iron and ironing board
Spa Suite Family Cabin (1 Cabin Only)
2 - 5 Persons
1 King size bed in living room area, separate bedroom with 2 Single beds & option for a rollaway bed
Turn down service
Log fire with ample cut wood and kindling available
Electric heater
Alarm clock
Table, chairs, coffee table and armchairs
Kettle
Nespresso machine
Refrigerator
Hairdryer
Toilet and shower
Daily housekeeping service
Mini Bar
Balcony
Bluetooth speaker
Spa Bath
Iron and ironing board