Exploring Cradle Mountain – Our Top Tips!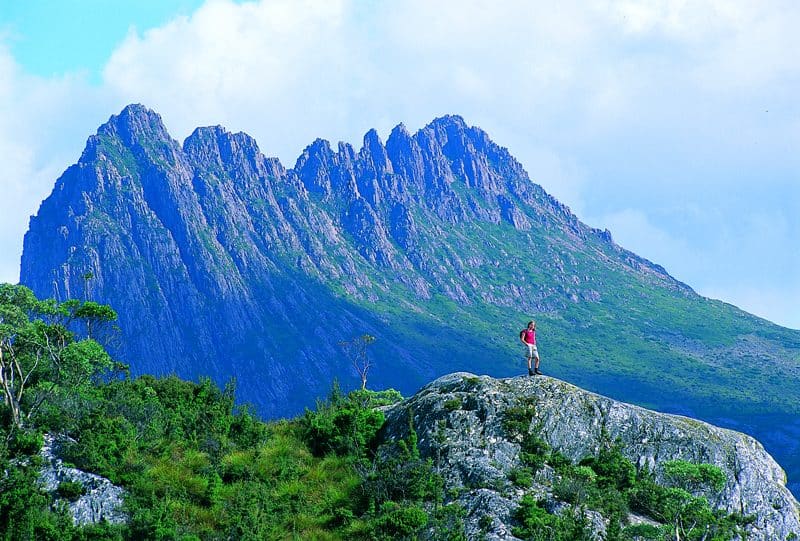 Want to know our top tips for exploring Cradle Mountain?
While many guests have heard of Cradle Mountain's remarkable beauty and dramatic setting, it's not until they're standing 1,545 metres above sea level, breathing our pure alpine air, that they truly appreciate they've stepped into a destination experience like no other.
Recognised as one of the last true wilderness regions on Earth, Cradle Mountain's realm forms part of Tasmania's World Heritage listed area at the northern end of Lake St Clair National Park, where breathtaking vistas change with the season, and no two days are quite the same.
At Cradle Mountain Lodge, we're perfectly positioned to take full advantage of the abundant natural assets our 'backyard' has to offer. But, with so many hidden jewels in Cradle Mountain's crown, to properly explore the multi-faceted layers of our unique flora and fauna, unforgettable views, glacial lakes, and extraordinary alpine landscapes, it pays to have a little local knowledge.
The benefits of an experienced guide
While many of Cradle Mountain's attractions can be self-navigated, when you tap into the experience and knowledge of a passionate guide, you're not just enjoying beautiful scenery, you're understanding it. The additional education and information provided by a tour guide adds value and reaps benefits.
For example: Do you know when the best time of day is to photograph the last rays of sun over Cradle Mountain? Where are the best 'hot spots' and times for guaranteed wildlife sightings? What is the name of that unusual bird? Or those towering trees? And what about the indigenous history of the Highlands, or the family history of the first while settlers to call this remote and rugged region home? A good tour guide can provide informative commentary on all these things, and more.
For guests who like to learn more about the history, geography, indigenous flora and fauna, and cultural aspects of the terrain they're travelling through, we highly recommend booking into one of our popular guided tours.
Our Top Tips for Exploring Cradle Mountain
To ensure your time at Cradle Mountain Lodge is maximised, we've put together a number of immersive activities and experiences designed to take you off the 'tourist trail' and showcase the wonders of our highland haven. Whatever your age or ability, you'll find a guided tour or activity to appeal to your sense of adventure.
Guided Wilderness Walks
Nature lovers are spoiled for choice when it comes to exploring Cradle Mountain by foot. With a network of trails and walking tracks meandering through ancient rainforests, alpine heath, windswept grasslands, and flanking glacial waterfalls and lakes, every twist and turn offers new discoveries and a fresh perspective.
Whether you prefer a gentle pace or you're a serious hiker, no stay at Cradle Mountain Lodge is complete without a guided walk. Choose from: Dove Lake Guided Walk, Crater Lake Guided Walk, Waterfalls Guided Walk, or The Enchanted Walk, a complimentary family favourite designed to give you an appreciation of the area and a taste of the wonders that await on a lengthier walk.
Dove Lake Canoe Tour
As the only commercial license holder operating canoes on Dove Lake, we have exclusive rights to paddle the Lake's gentle glacial waters. While the Dove Lake Circuit is one of Tasmania's most celebrated walking trails, our Canoe Tour offers a uniquely private experience, and an opportunity to observe uninterrupted the unique shoreline habitat and the native plant and animal life it supports.
Park Discovery Tour
A fun and interactive two-hour exploration that provides a real insight into several of the region's most remarkable icons. Travel into the National Park to visit sites such as Dove Lake and its famous Boat Shed, Cradle Mountain, and Waldheim Chalet, a pioneering site of great historical merit, now open to the public as a museum. A rainforest walk provides the opportunity to get 'up close and personal' with the environment, and learn about the glacial formation of the region. No tour is complete without saying 'g'day' to the locals, so keep your eyes peeled for wombats … your guide knows just where to find them!
Wildlife Spotting
Our most popular tour at any time of year. Summertime means we can take advantage of extended daylight and show off the beauty of the setting sun as she sinks behind Cradle Mountain's spires and gives way to the most spectacular sunset; while winter transforms the Central Highlands into a postcard-perfect wonderland.
We understand guests want to enjoy their holiday at their own pace, so we operate two tours nightly to accommodate pre and post dinner preferences. A Wildlife Spotting Tour is the perfect way to end your day. Keep your eyes peeled for wallabies, wombats, and echidnas roaming the grasslands at dusk; while night brings out the nocturnal creatures such as possums and quolls, or perhaps a Tasmanian Devil.
Fly Fishing Tutorials
One-hour fly fishing tutorials are conveniently held at the Lodge Pond, the ideal environment to work on your technique. If you've always wanted to learn the complex art of fly fishing, our experienced instructor will demonstrate step-by-step. You'll learn to fly cast with confidence, and the best types of flies to land one of Tasmania's celebrated wild trout! If you're looking for fishing hotspots to practice your new skills, we can point you in the right direction.
Small group tours at great prices
All guided tours at Cradle Mountain Lodge represent great value for money, unrivalled local knowledge, and are designed to be intimate environmentally-respectful experiences, with an onus on safety and comfort.
Lead by our highly qualified in-house Tour Leader, Paul Riggs Barker, who holds twenty-five years tour guiding experience across some of Australia's most spectacular locations, a Cradle Mountain Lodge guided tour is guaranteed to be a highlight of your stay.
To make a booking on any of our tours, or for more information call Cradle Mountain Lodge on 1300 806 192 (within Australia) or +61 3 6492 2100 (International callers)