Cradle Mountain: Tasmania's Iconic Natural Jewel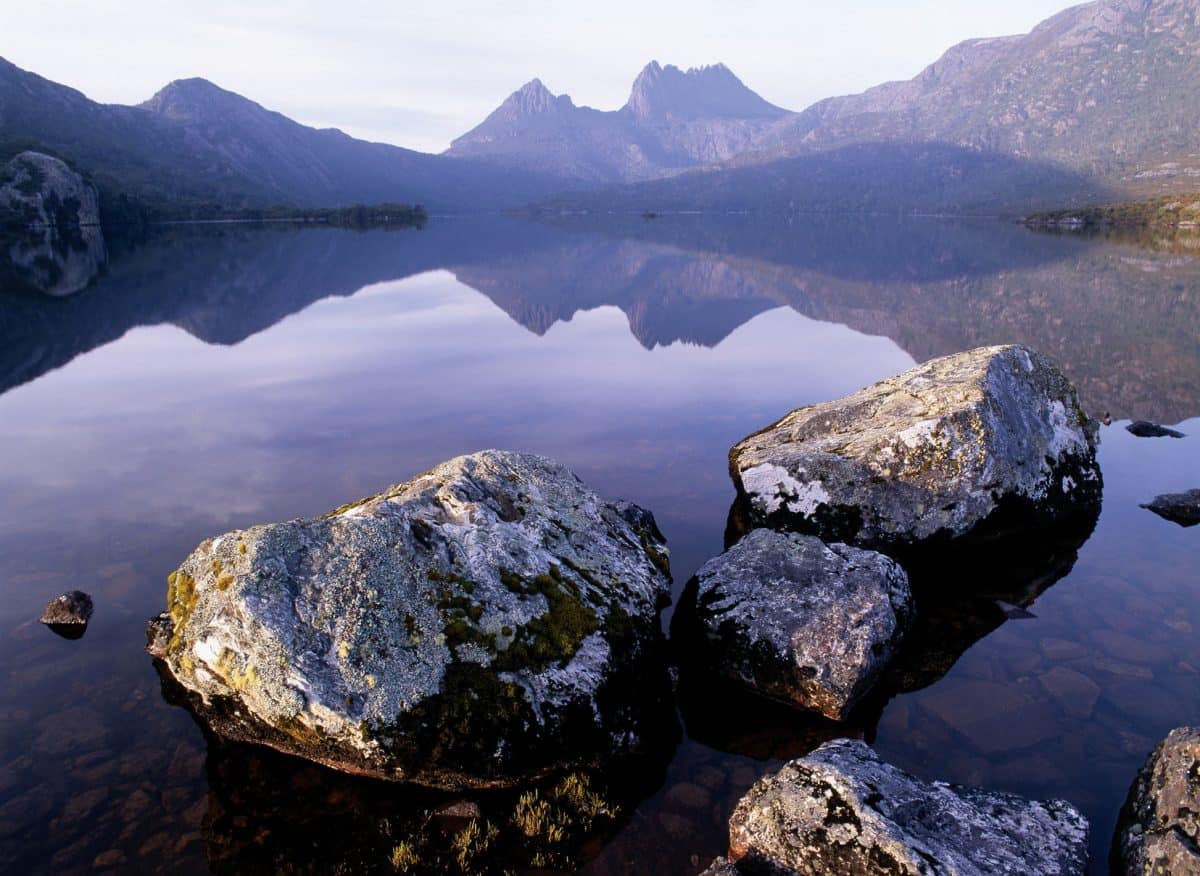 Cradle Mountain's dramatic wilderness offers an unforgettable holiday experience for adventure seekers and nature lovers of every age and ability. Nestled in the northern end of Lake St Clair National Park in Tasmania's Central Highlands region, our little piece of paradise balances the experience and ambience of a remote escape with the convenience of accessibility.

At Cradle Mountain you'll discover a place where stunning natural resources, indigenous flora and fauna, breathtaking views, glacial lakes, and extraordinary alpine landscapes meld seamlessly with your accommodation. Spend a few days at Cradle Mountain and it's easy to see how this Jurassic-sculpted peak cemented its reputation as Tasmania's most iconic natural jewel, and a 'bucket list' travel destination.

Cradle Mountain: Top ranking for World Heritage Listed wilderness
Proudly perched 1,545 metres above sea level, Cradle Mountain is Tasmania's sixth highest peak, and forms part of the Tasmanian World Heritage Listed Area. Recognised as one of the last true wilderness regions on Earth, our World Heritage status was granted in 1982, and covers approximately 1,584,000 hectares.

In order to achieve World Heritage Listed status, sites must be deemed to be of outstanding universal value, and satisfy a minimum of one of four natural, and/or one of six cultural, or cultural landscape, criteria.

Cradle Mountain's unique beauty helped Tasmania smash international records when it comes to meeting criteria! As one of only twenty-one World Heritage properties to satisfy all natural criteria, and one of only thirty-eight satisfying both natural and cultural criteria, the Tasmanian Wilderness World Heritage Area satisfies more criteria than any other site. To date, only Mt Taishan in China, has satisfied as many criteria for inclusion on the World Heritage List. Not a bad track record for our little island 42 degrees south!

Cradle Mountain – A bushwalker's paradise
The best way to explore Cradle Mountain is on foot! Strap on your hiking boots to enjoy one of the many trails and scenic walks the Highlands is famous for.
With trails ranging in distance and moderation, there's a track to suit walkers of every aptitude, from meandering strolls, to rainforest rambles, waterfall discovery trails, as well as more challenging grades for the serious hiker. Cradle Mountain is also the starting point for the world-famous Overland Track, which takes bushwalkers on a multi-day immersive trek through stunning terrain, ending at Lake St Clair.

At Cradle Mountain Lodge, you'll find a number of graded hiking trails right on your doorstep, including King Billy Track, The Waterfalls Walk, Speeler Track, and Dove Canyon Track. We also offer guided walking tours so you can appreciate the beauty of Cradle Mountain and learn more about its history, geography, and cultural merit from a passionate and experienced guide.

Cradle Mountain Flora and Fauna – Say G'day to the locals!
Cradle Mountain and Lake St Clair National Park are home to an abundance of wildlife, bird species, and a rich and diverse range of plant life and vegetation, making it the ideal place to catch a glimpse of our indigenous flora and fauna.

Keep your eyes peeled for some of Australia's most iconic animals such as wombats, wallabies, quolls, echidnas, platypus, and the famous Tasmanian Devil. Bird spotters will be in heaven with Lake St Clair National Park listed as an Important Bird Area (IBA), providing habitat for eleven of Tasmania's endemic bird species, as well as for the flame and pink robins and the striated field wren.

Cradle Mountain's biodiversity spans ancient rainforests to alpine heaths and grasslands. You'll find ancient plants and trees such as the endemic King Billy Pine, the native deciduous beech tree, myrtle, sassafras, buttongrass, and tea tree. Summer and Spring bring an extra burst of colour to the region with wildflowers in bloom including waratahs, orchids, banksias, hakeas and leatherwoods.

Local produce and regional wines
At Cradle Mountain Lodge we celebrate the abundance of local seasonal produce and wines, offering visitors and guests the chance to experience the freshness and quality for themselves with menus and gourmet experiences designed to showcase the finest of Tasmanian food and wine. Our 'paddock to plate' concept across fine dining to casual fare, will satisfy culinary appetites and serve as an introduction to the regions finest cheese, game, seafood, chocolate, fruit, vegetables, and truffles.

Cradle Mountain – Your 'Must See' Travel Destination
This is just a snapshot of what you can expect when you visit Cradle Mountain, Tasmania's natural iconic jewel. Once you've experienced its natural beauty for yourself, it's easy to see why its regarded as one Tasmania's 'must see' destinations. We look forward to welcoming you soon …

Cradle Mountain Lodge represents a welcome oasis after a day of discovery and exploration. With luxury accommodation, and facilities designed to inspire the senses, you can unwind with an indulgent spa experience at Waldheim Alpine Spa, enjoy a guided Wine and Cheese tasting, or simply relax and take in the beauty of Cradle Mountain's vista with a glass of local wine until it's time for dinner.
Sources researched: